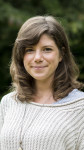 Elena Saggioro
Based at: University of Reading
Research project: Causal approaches to climate variability and change.
Supervisors: Professor Ted Shepherd (Lead Supervisor, Department of Meteorology, University of Reading), Professor Sebastian Reich (Department of Mathematics and Statistics, University of Reading), Dr Jeff Knight (Met Office)

Project summary: Although there is confidence in thermodynamic aspects of global climate change for a given global warming, crucially there is still large uncertainty in the dynamical response at the regional scale. This is due to the role of atmospheric circulation, projected changes in which are poorly constrained by Global Climate models (GCMs) which give widely divergent responses, reflecting underlying model errors.

In order to identify the physical range of plausible responses, it is firstly necessary to identify models' errors on short-timescale behaviour, for instance by comparing outputs with observed seasonal variability. Secondly, the connection between such errors and their spread in future projection needs to be understood and used to rule out unphysical projections. Within climate science this method is referred to as 'emergent constraints', its validity being rooted in the principles behind the fluctuationdissipation theorem (FDT) in statistical physics. Whilst promising, the application of emergent constraints in climate science has often failed, this due arguably to unsuitable practical estimations of both short-term errors and connection with long-term responses.

In this PhD we aim to tackle the issue of constraining the circulation response to climate change adopting time-series Bayesian Causal network (BCNs). This is a mathematical framework suitable to address questions related to causality, and its practical implementation results in a tool for robust statistical inference. A N-variate time evolving process can be associated to a time-series BCN by representing relations of pairwise conditional dependence in the process as lag-specific time-oriented links in the graph. The definition translates into a practical procedure for inferring causal links from data, once a test for conditional independence is chosen.

In the PhD we will use BCNs to estimate model errors on seasonal time scales, by comparing causal mechanisms as detected from reanalysis data with the same as extracted from model outputs. Then, we will connect short-timescale model errors to the long-term projection. The idea here is to complement the FDT-based reasoning with the insights in data provided by BCN representation.