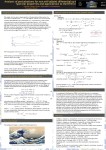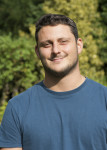 Francesco Ferrulli
Based at: Imperial College London
Research project: Analysis of perturbations for non self-adjoint partial differential operators. Spectral properties and applications to the study of the RSW equation
Supervisors:
Ari Laptev (Imperial College London, Department of Mathematics)
Michael Levitin (University of Reading, Department of Mathematics and Statistics)

In the formulation of the two dimensional Shallow Water equation within a Rotating frame (RSW) the geometry of the problem appears to be substantially changed compared to the same problem settled in the irrotational case. As recognized in the literature, the rotating term acts as a breaking up term for the symmetry of the system so that the resulting system consists in a hyperbolic, non symmetric system of equations. From a spectral point of view the broken symmetry gives rise to a non self-adjoint operator for the linearised problem whose spectrum contains now a purely complex component, which in turn generates in the time dependent context phenomena such as blow-up or formation of turbulences. It is well known that the latter is a feature which appears in many different weather and climate related scenarios. Turbulences are indeed essential to study the cyclone's pattern formation as well as in the context of unpredictability and chaotic systems with particular relevance to numerical simulations. This wide collection of problems arising in different contexts can be allocated under the same very challenging mathematical problem, namely the study of resonances for operators which in case of complex perturbations turns out to be genuinely related to the eigenvalues of a non self-adjoint operator. Recently, new results for two-dimensional complex non self-adjoint Dirac like operators have been achieved in terms of partial description of the complex part of the spectrum and specifically regarding the arrangement of the complex eigenvalues. This PhD project aims to gain knowledge on the solutions of the RSW equations from the study of the linearised system. In order to do so, I will exploit the mathematical techniques that have been used in the study of the spectral analysis of non self-adjoint operators which present similar features to the one arising in the RSW framework. In particular I will be interested in the characterisation of the spectrum and the study of its stability under small perturbations as well as the formation of resonance effects. On the mathematical side, the latter phenomenon turns out to be very challenging and of high interest as pointed out within the KAM theory since it introduces small divisors in the approximating series for the solution of the linearised system, increasing hugely the difficulty of deriving estimates for the series. Furthermore, on the physical side, the linearised shallow water equation system has been recognised as a valid approximation for modelling the propagation of a tsunami wave far from the shore. So the study of resonances of the operator in the linear case itself represents again an interesting topic which can lead to improve the knowledge of the behaviour of such type of waves.