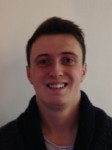 Alastair Gregory
Based at: Imperial College London
Research project: Multilevel ensemble data assimilation
MPE CDT Aligned student

Research project: Multilevel ensemble data assimilation

PhD project summary: Uncertainty appears in a variety of forms in climate and weather models. Many climate and weather models operate on low grid resolutions (which leaves margin for error from sub-grid processes) or have a severe lack of data to guide them to accurate parameter estimates or initial conditions. Ensemble methods aim to incorporate this uncertainty into models to produce high-accuracy estimates by averaging over an ensemble of random (or pseudo-random) model realisations - Monte Carlo estimation. However, to reach the accuracy that most climate and weather models require, an extraordinary amount of realisations of the model have to be computed, and this is very computationally expensive. There is now an alternative: the novel multi-level Monte Carlo method (Giles [2006]). The multi-level Monte Carlo method produces an optimal combination of many low-accuracy samples and few high-accuracy samples to reduce computational cost and variance within the model estimator. Advanced weather and climate ensemble prediction requires high-dimensional spatiotemporal models to be solved accurately, at a low computational cost, and to incorporate a large range of data assimilation techniques - this PhD attempts to achieve this using an adaptation of the multi-level Monte Carlo method.